Lions in Nairobi? A new suburban problem
On the outskirts of Kenya's capital city, stray lions from Nairobi National Park have begun to prey on domestic herds. Masai herdsmen threaten to take action if the government doesn't.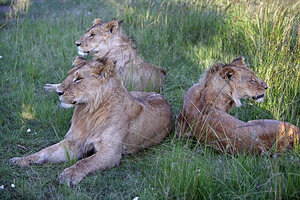 Melanie Stetson Freeman/Staff/File
Kenya's four-month-long Great Wildebeest Migration began this month, with herds of animals crossing the crocodile-infested Mara River into the Maasai Mara Game Reserve from Tanzania's Serengeti park, and tourists have begun their own mad rush to the Kenyan bush to take in the spectacle. This was never just a matter of wildebeests on the move, because where the wildebeests go, leopards, lions, and hyenas inevitably follow.
But for mass migration, and for hungry lions, tourists need go no farther than Nairobi.
Over the past six months, stray lions from Nairobi National Park, on the capital city's outskirts, have been venturing into Nairobi's suburbs, preying on cattle, sheep, and goats. It's a matter of concern to members of the Masai community, who live off of herding on the outskirts of Nairobi, and who are demanding action from the government. Some Masai have already begun killing lions to protect their herds and families.
---