With draft constitution, Somalia draws closer to democracy
Somalia has lacked a working government since 1991, when its last elected government collapsed. Its newest draft constitution puts it on a path toward elections and legitimacy.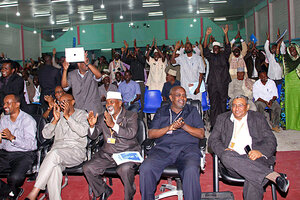 Farah Abdi Warsameh/AP
Somalia took a step toward true democratic government today, when its leaders adopted the country's first new constitution in more than half a century.
A gathering of 645 nominated community representatives, politicians, and elders approved the new law with a 96 percent majority, paving the way for more inclusive administration and greater human rights.
Islamic law is taken as the basis for the new constitution, but the widespread practice of female circumcision is banned and abortions are allowed to save the life of the mother. Wednesday's move is one of three key milestones on a "road map" to peace that includes a deadline of Aug. 20 for all of the current transitional government bodies to hand over power to permanent successors.
"Today I am announcing that Somalia has a constitution and the transitional period is ended," said Abdiwali Mohamed Ali, Somalia's prime minister.
"I thank all Somalis, the international community, and anyone who helped us to approve our constitution. Today is a historic day for the Somali community and our country, today is the end of piracy and terrorism."
The constitution, the prime minister added, would "restore peace and the law of the country."
Yet the gathering, in central Mogadishu, was nearly the scene of the latest in a series of attacks by Al Shabab, Somalia's Al Qaeda affiliate.
In a sign of the country's continuing challenges, two suicide bombers tried to force their way into the meeting, and were only stopped when repeatedly challenged by security officers.
---