In Somali capital, a year without Islamist militia
One year after the forced departure of Islamist militia Al Shabab, Mogadishu is rebuilding and prospering. But residents worry the group may return.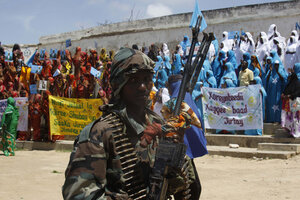 Farah Abdi Warsameh/AP
Mogadishu, Somalia; and Nairobi, Kenya
A little over a year ago, perhaps the most common sound regularly heard on a Mogadishu morning, after the muezzin's call to prayers, was gunfire.
Then, an army of African Union soldiers was battling Al Shabab, an Islamist militia encamped in foxholes and sniper positions dotted throughout Somalia's seaside capital.
Now you're more likely to hear the clang of hammers and the drone of drills.
Mogadishans will Monday celebrate a year to the day since Al Shabab, now partnered with Al Qaeda, slunk out of the city's center under cover of darkness, leaving it to government forces.
Within weeks, Al Shabab's fighters would be pushed from Mogadishu's margins, too.
"This used to be a place where misdirected mortars always fell, where buildings collapsed and people were killed daily," says Nur Ibrahim Adan, a stallholder at Bakara Market, once an Al Shabab stronghold.
"Now there is a great change. There is no fear. There are no casualties. There are new buildings, new customers. Already my profit is much higher.
"This is how it will stay, I think. Al Shabab cannot come back, not when the African Union soldiers are here. Unless they leave, I think we can hope to live in this new quiet situation."
Boom town, in the good sense
Somalia's capital is in the midst of a transformation of greater significance, happening at greater speed, than at any time in the last 20 years, bringing cautious hope that a measure of peace may finally be taking root.
---