Why Somalis aren't benefiting from rollback of Islamists
The past year's offensive against Islamist militia Al Shabab should have opened territory for aid groups to operate in. But security and funding shortages remain problems.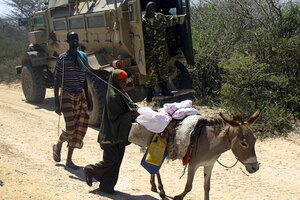 Farah Abdi Warsameh/AP
For humanitarian aid groups, the Somali government's and African Union peacekeeping force's success in pushing Islamist militias out of Mogadishu and other strongholds across southern Somalia, should have meant greater access to vulnerable Somali communities.
But in the wake of a year-long offensive in southern Somalia – led by the transitional Somali government, the Kenyan and Ethiopian militaries, and the African Union's Mission in Somalia (AMISOM) – much of rural southern Somalia remains off limits to many foreign aid groups with the resources to feed and protect hundreds of thousands of displaced Somalis.
In the lower Juba region, which borders Kenya, an estimated 205,000 of the 386,000 population are believed to be experiencing an acute food and livelihood crisis, a step just short of famine.
Residents in the towns of Afmadow, Ta'abta, and Qoqaani are being displaced from their homes by ongoing conflict, as Kenyan troops press on toward the port city of Kismayo, the main headquarters of the Islamist militia, Al Shabab. Indeed, this final assault on Kismayo – the main market town in the south – means that many Somalis are cut off from their chief supply of food, exacerbating local food shortages.
All of this comes at a time when international aid groups say they are struggling to find funding, as aid dollars dry up in hard economic times. At Dadaab refugee camp – the main camp for Somali refugees in Kenya, and the largest refugee complex in the world – aid groups say that a funding shortfall could put tens of thousands of lives at stake, and the increase in military activity may also put many noncombatant Somali families and aid workers at risk as well.
---