Sudan's struggling government offers to go '100 percent Islamic'
The government faces new pressures from the loss of territory and oil revenue to South Sudan, but the push for an Islamic constitution has much older roots.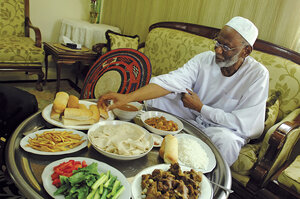 Scott Peterson/The Christian Science Monitor/Getty Images
After 23 years at the helm in Sudan, President Omar Hassan al-Bashir is sending up a new rallying cry for a "100 percent Islamic" constitution to shift public attention away from Sudan's crippling problems.
"We want to present a constitution that serves as a template to those around us," Mr. Bashir told religious leaders in early July. "And our template is clear, a 100 percent Islamic constitution, without communism or secularism or Western [influences]."
Even by Sudan's standard of chronic crises, Bashir's rule is facing problems that individually could have buried a less resilient regime.
The secession of South Sudan a year ago deprived Sudan of vast swaths of territory and wealth, and 75 percent of its income. Strict austerity measures announced in June by the president – who is charged with genocide by the International Criminal Court (ICC) – have sparked modest Arab Spring-style antiregime street protests. Inflation has hit an annual rate of 37 percent, the value of the currency has fallen, and wars and tension continue on multiple fronts to the south and west.
For many, the "new" push for an Islamic constitution is not new at all, only an opportunistic retrenchment of the Islamic militarism that first brought Bashir to power in a coup in 1989, with roots in Sudan that date from the late 1960s.
The interim constitution agreed to in 2005 to end the north-south civil war was an inclusive reflection of Sudan's religious and ethnic diversity. But the breaking off of South Sudan, the economic crisis, and conflicts opened the way for a return of Islamic rhetoric.
---