For Somali pirates, July was a very bad month
Private guards and international naval patrols – and some rough seas – have prevented successful high-seas hijackings by Somali pirates since June 19, the first zero-attack month since 2007.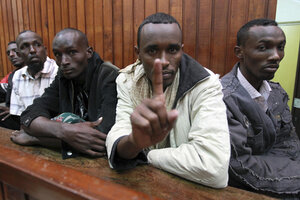 Joseph Okanga/REUTERS
As the trade winds shift on the Indian Ocean and Force 7 gales kick up fierce swells, all but the hardiest of Somalia's notorious pirates stay home with their boats pulled up on the beach.
There have always been a few, however, who continued to roam what have become the world's most dangerous waters, continuing the hijacks even as the weather worsened during July and August.
But new figures from the International Maritime Bureau show something different for this year's monsoon, currently in full force on the waters off the Horn of Africa.
Since June 19, Somalia's pirates have not successfully taken any vessel hostage, and since June 26, they have not even tried to carry out a hijack.
This marks the longest unbroken stretch of peaceful shipping off Somalia since piracy emerged as a major menace in 2007, and the drop has been attributed to a greater use of armed guards on ships, international naval patrols, and the bad weather.
"This is traditionally a quiet time for pirate attacks, but there have still always been a handful [of] incidences even during the monsoon months of July and August," says Cyrus Mody at the IMB's office in Britain.
"However since June 26 this year, we have seen no activity whatsoever in the southern Red Sea, the Gulf of Aden, the Gulf of Arabia, or the Somali Basin."
This is already after a 60 percent reduction in pirate attacks in the first six months of 2012 compared to the same stretch last year, from 163 incidents to 69. Despite this, Somali pirates still hold as many as 191 crew and up to 14 merchant vessels and fishing boats.
---