In Somalia, optimism rises
One year after the ouster of the Islamist militia, the capital city prospers. But Al Shabab remains a threat.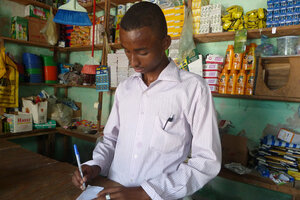 Abdiaziz Abdinor
A little over a year ago, perhaps the most common sound heard on a Mogadishu morning, after the muezzin's call to prayers, was gunfire.
Back then, an army of African Union soldiers was battling Al Shabab, an Islamist militia encamped in foxholes and sniper positions dotted throughout Somalia's seaside capital.
Today, you're more likely to hear the clang of hammers and the drone of drills.
On Aug. 6, Mogadishans celebrated a year to the day since Al Shabab, now partnered with Al Qaeda, slunk out of the city's center under cover of darkness, leaving it to government forces. Within weeks, Shabab's fighters would be pushed from Mogadishu's margins, too.
"This used to be a place where misdirected mortars always fell ... and people were killed daily," says Nur Ibrahim Adan, a shopkeeper at Bakara Market, once an Al Shabab stronghold.
"Now there is a great change. There is no fear; there are no casualties. There are new buildings, new customers. Already my profit is much higher." He's persuaded things will stay quiet so long as African Union soldiers remain.
---