SEC ruling will spotlight financial dealings of firms in Africa
SEC ruling will require oil and mining companies to disclose payments to foreign governments. It could put those operating in resource-rich Africa at odds with governments that prefer secrecy and at a disadvantage to less-regulated companies.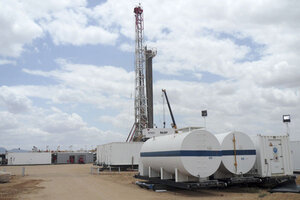 Njuwa Maina/REUTERS
The world is set to know a bit more about the billions of dollars that US-listed companies spend to scoop gold and gas and diamonds and oil out of the earth.
In a 2-to-1 vote yesterday, the US Securities and Exchange Commission approved a thorny clause nestled near the back of 2010's 800-page US Financial Reform Act. Section 1504 – the "Disclosure of Payments By Resource Extraction Issuers Section" – forces any oil or mining company listed on a US stock exchange to produce an annual report detailing each check, bank transfer, or cash-flushed suitcase above $100,000 that they submit to foreign governments.
In a second ruling today, the SEC also backed Section 1502, the so-called "conflict minerals clause," which would make miners tell the public if any of their minerals come from Democratic Republic of Congo, where sales of precious stones have financed more than a decade of war.
Human rights advocates have reason to cheer both decisions, especially in resource-rich Africa.
Oil companies are not likely to be as happy. Today's ruling tops off a mountain of new anticorruption laws in the US and Europe that have trapped the biggest oil and mining corporations between their home governments, increasingly eager to pry open company books, and foreign governments that mostly prefer to keep big business deals under wraps.
---