God and mammals: In Kenya, religious leaders pray to thwart poaching
African religious leaders toured Kenya's Nairobi National Park to learn about the urgent threat to elephants and rhinos from poaching – and to share ideas about using their moral clout to stop it.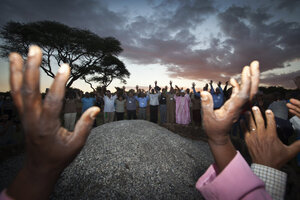 Ben Curtis/AP
Just before sunset on a low hill in Nairobi's safari park, some 50 religious leaders stood in a solemn circle around a pit containing the charred remains of 13 tons of elephant ivory burned to keep it out of poachers' hands.
Led first by an Anglican Christian, then by a Muslim imam, a trio of Hindu devotees, and a Buddhist, prayers were offered, each asking for forgiveness for the damage that humans are inflicting on wildlife and the environment.
The quiet moment under the reddening sky followed a three-day gathering of African religious leaders, organized by conservationists keen to explain to these community trendsetters the reality of the current crisis in wildlife protection on the continent. The hope is that they then return home and pass the message on to their congregations.
Think you know Africa? Take our geography quiz.
Together, the 50 men and women here for the meeting reach more than 180 million followers, according to the Alliance of Religions and Conservation, a Britain-based group that helped arrange the event.
"Protection of the environment and its creatures is I think one of the major points of convergence between all religions," says Dekila Chungyalpa, a Buddhist and director of Sacred Earth, a new World Wildlife Fund program to forge closer connections between religions and conservationists. "We as conservationists can frame the discussion on stopping poaching, for example, in legal and ecological terms. But these religious leaders can frame it in a moral context, and talk about the religious duty to act to protect the environment. As an individual in a congregation, it then becomes unavoidable that you must act."
---