When Al Shabab's last stronghold falls, will a guerrilla war follow?
Kenyan soldiers launched an attack on Kismayo, the last stronghold of Islamist group Al Shabab in Somalia. But many worry that if Kismayo falls, Al Shabab may revert to terrorist attacks.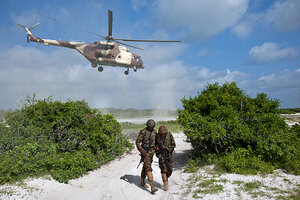 Ben Curtis/AP/File
Kenyan soldiers today launched their long-awaited offensive on the last remaining stronghold of Somalia's Al Qaeda-allied Islamists, Al Shabab, with a pre-dawn assault that caught the enemy by surprise.
Attack boats ferried hundreds of Kenyan troops onto the beaches north of Kismayo under cover of darkness, and soldiers advanced to the city's outskirts before Al Shabab could mount a defense.
Fierce fighting broke out, and has continued throughout the day, with Kenya's military saying it already controls part of the city, and residents there reporting the battle has yet to enter its sandy streets.
Kismayo, with a population estimated at 200,000 people, is Al Shabab's last major stronghold after a series of attacks by African Union (AU) peacekeepers forced them from other Somali towns over the past six months. It is widely assumed the Kenyan troops, operating under the AU mission in Somalia (AMISOM) will outgun the Islamists and that the city will fall within 48 hours.
If successful, this would mark one of the AU's most significant military achievements and leave Al Shabab without control of any major urban center in southern Somalia. But it may result in pushing the Islamist group toward more guerrilla tactics, changing the state of play in Somalia and further punishing the population with ongoing violence.
---