College students massacred one-by-one in Nigeria
The militant Islamist group Boko Haram means 'Western education is a sin' but it's not clear yet if the group was behind the attack.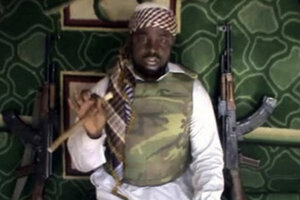 AP/File
Unidentified gunmen massacred at least two dozen university students in northern Nigeria Monday night in the city of Mubi near the border with Cameroon. The attacks lasted more than an hour, with gunmen targeting specific students by name rather than indiscriminately firing.
Suspicion fell immediately on Boko Haram, a violent Islamist organization in northern Nigeria that has typically attacked Christian churches and security forces. Student leaders, meanwhile, suggested that the killings may have been tied to internal student political campaigns. No group has yet claimed responsibility for the attack.
Aside from Boko Haram's history of bloody attacks on civilians, the very name of the group – which means "Western education is a sin" – stokes suspicion of their involvement. But even if the group is found to be involved, the purpose of such an attack would not be part of some global jihad.
"I cringe at the 'Western education is a sin' [translation] – there should be a modifier there. It's really Western education in Nigeria. There's a tendency to view this issue as a little wider than it is," says Gordon Bottomley, an associate at Ergo, a New York-based intelligence and advisory firm.
Boko Haram leaders associate Western education with the elites of northern Nigeria, whom the militants see as corrupt and insufficiently Islamic, says Mr. Bottomley. Boko Haram wants northern elites, politicians, and religious figures to adopt a stricter version of sharia law and maintain the north's identity as an Islamic region in a Christian-majority country.
"Western education encroached upon Muslim rule in northern Nigeria, so that's the push back on it," says Mr. Bottomley. "They [Boko Haram] are not taking up the broader issue of education around the world."
---