Kenyan Christians fear former brethren are attacking churches
Some Christians converting to Islam in Kenya have been recruited by Al Shabab, a militant Islamist group with ties to Al Qaeda.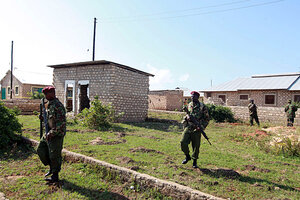 Joseph Okanga/Reuters
Kenyan church leaders and analysts are expressing concern that recent Muslim converts from Christian rural regions are the new breed of jihadists targeting churches, public places, and police in the country.
In the latest incident, a grenade attack injured at least 10 officers from the paramilitary General Service Unit in the port city of Mombasa. The unit has been cracking down on terror groups in the coastal region.
Al Shabab, a militant Islamist group with ties to Al Qaeda, is no longer relying on its traditional base of Somali or Swahili Muslims. Instead, the group is recruiting a new multi-ethnic band of recruits, many of whom are former Christians, making it more difficult to identify would be attackers.
"It is the recent coverts who [are] being used to bomb churches. It is not members of the Somali, Boran, or Swahili communities, which have many Muslims, but the other tribes which have been known to follow Christianity, like the Luo, Kikuyu, or Luhya," says Rev. Wellington Mutiso, the head of Evangelical Alliance of Kenya.
The group is targeting poor, unemployed youth from the Protestant and Catholic church regions, making the churches very concerned, according to the Rev. David Gathanju, the head of the Presbyterian Church of East Africa (PCEA). Editor's note: An earlier version of the article misspelled Gathanju and Kikuyu.
---