Iranian warships dock in Sudan after alleged Israeli airstrikes
The visit has put Sudan's links to Iran under closer scrutiny.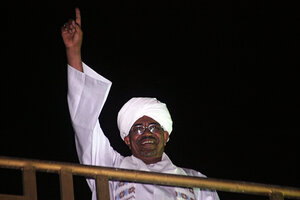 Reuters
Sudan's links to Iran came under scrutiny Tuesday as it welcomed two Iranian warships less than a week after an explosion at a Khartoum weapons warehouse that Sudanese officials blamed on an Israeli airstrike.
Unconfirmed reports in Israel suggested that the arms factory was either storing or manufacturing weapons on behalf of Iran. Sudan has in the past denied that it allows Iranian weapons to be shipped through its territory to Hamas in Gaza and Hezbollah in Lebanon.
Sudan's information minister, Ahmed Belal Osman, last week accused Israel of carrying out an airborne attack on the facility. An explosion at Yarmouk, outside Khartoum on Oct. 24 left extensive damage. Sudan has complained to the United Nations about the strike. Israel has refused to comment.
---