In a Kenyan village, delight at Obama's reelection
Mitt Romney never had a chance in Nyang'oma Kogelo, the Kenyan village where US President Obama's father was born.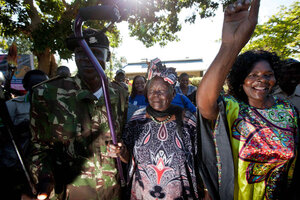 Ben Curtis/AP
President Obama's reelection has stirred wild celebrations in Nyang'oma Kogelo, the birthplace of his father, Hussein Obama.
In the village about 415 kilometres (258 miles) west of Nairobi, Christian and traditional songs reverberated alongside African drumbeats and dances early in the morning as Obama's win was announced on international TV channels. The village was tense and prayerful for weeks as Obama and Mitt Romney faced off for the United States presidency.
"I thank the people of Kogelo for supporting and praying for my grandson. I thank American voters for reelecting my grandson … I want him to work harder and work with Romney," says Sarah Obama, Obama's step-grandmother.
Kenya's President Mwai Kibaki today called Obama's victory a reaffirmation of the American people's confidence in Obama's leadership and wished him good luck. "We are always proud of association with you," said President Kibaki.
---