Sick of traffic, Kenyans on board with Nairobi's new commuter rail
The Kenyan capital, home to some of the world's worst traffic, launched its new commuter rail this week in part of a homegrown modernization effort.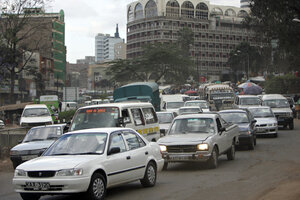 Antony Njuguna/Reuters
In the Kenyan capital of Nairobi, which is wracked by traffic jams ranking among the world's worst, getting in and out of the city is a challenging task. So it is no surprise that riders of its newly launched commuter rail are enthusiastic.
"It's dead on time. This is great! That's what we need here. The traffic jams are very expensive and punishing," says Francis Owuor, an oil engineer in Nairobi, as he debarked from the train at the Central Railway Station in the city.
The new train, launched this week and Kenya's first since independence in 1963, is part of a homegrown effort to upgrade the country's heavy infrastructure, including its trains and rail, which ordinary citizens still associate with the colonial era.
Six trains will deliver about 20,000 residents per day in 40-minute trips between the central business district and the Syokimau suburbs, where a new modern railway station has been built. The station, 10 miles south of Nairobi, is Kenya's first since the British built one in the town of Butere 80 years ago.
Thursday morning, Mr. Owuor parked his car at one of the new station's 3,000 parking spaces. And in the evening, he will ride back on one of the coaches, with capacities of 70 seated and 120 standing passengers, who pay 100 shillings ($1.17) for a one-way trip.
Many are expected to "park and ride" to work on the refurbished coaches, which are more comfortable and faster than sitting in a 90-minute traffic jam. Ticketing is electronic, and there are bell alerts and minute-to-minute updates on speakers.
"The idea is to de-congest the city. We are creating parking spaces at the station, especially for middle class people who drive to town," says Golicha Tatache, a marketing manager at Kenya Railways Corp.
Nairobi's traffic jams cost the Kenyan economy about $600,000 per day in form of lost productivity, fuel consumption, and pollution, according to the Nairobi City Council.
---