Goma's fall: Could UN troops in Congo have done more to prevent it?
The ease Tuesday with which rebels overran Goma, one of DR Congo's largest cities, underscores UN peacekeepers' 'difficult problem': their limited mandate.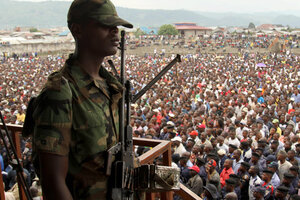 Marc Hofer/AP
Rebels who overran one of Democratic Republic of Congo's largest cities marched to take control of outlying areas Wednesday, leaving in their wake questions over the apparent ineffectiveness of United Nations peacekeeping in the country.
The UN mission in Congo, known by its French acronym Monusco, is second only to the operation in Darfur in terms of the size of its deployment.
Yet a rebel army formed only seven months ago managed to sweep past dozens of Monusco positions to seize Goma, the UN's regional mission headquarters, and was Wednesday extending its control unopposed to the west.
"We always knew that the FARDC [Congo's national Army] were too useless to protect us, but we had some trust that the United Nations would resist the rebels more," said Joachim Kabori, a travel agent in Goma. "Today we see that these troops just stood by. We can only say that we are lucky that the rebels were not firing and fighting us, because otherwise we would be dead while the UN looked on."
Think you know Africa? Take our geography quiz.
That, in fact, is not true, and goes to the heart of what Monusco's spokesman in Goma calls "this difficult problem."
It may seem absurd that Congo's force of 19,000 uniformed UN troops, supported by 3,800 civilian staff, could not halt the advance of no more than 1,000 fighters fresh from the bush. But fewer than 1,500 of those peacekeeping soldiers were stationed in Goma when the M23 rebel army arrived.
---