In DR Congo, Goma residents worry about life after rebels' departure
Rebels who took Goma, DR Congo's second-largest city, have sent mixed messages about withdrawal. Some residents say security improved after the rebels claimed the city.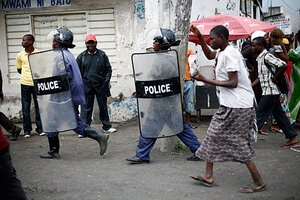 Jerome Delay/AP
Goma, Democratic Republic of Congo
Following days of doubt regarding whether M23 rebels in eastern Congo would withdraw from Goma, it appears that they have begun to return to their stronghold north of the country's second-largest city. But there are indications the rebels could yet reverse course.
Standing atop a mountain overlooking the frontline on Wednesday, rebel commander Lieut.-Col. Masozera claimed his troops will soon start to leave. "We have begun our withdrawal," Masozera said. "It will take a few days, though."
Regional leaders had called for the rebels to withdraw from Goma by midnight Monday. At a press conference Tuesday in an upscale hotel on the Congo-Rwanda border, the group's political leader, Jean-Marie Runiga, said M23 would not pull out of Goma until the Congolese government met a string of demands, including the release of political prisoners. On the same day, though, the group's military chief Sultani Makenga said they would pull out immediately, without any conditions.
At Karuba, situated close to the frontline, around 24 miles outside of Goma, there was no immediate evidence of a withdrawal. Masozera said his troops would start to withdraw on Friday and head to Sake, northwest of Goma. When asked what they would do at Sake, Masozera replied, "We will standby for further orders."
But late Thursday, there were reports that the Democratic Republic of Congo Army (FARDC) was advancing on rebels, spurring M23 troops to reinforce their positions rather than withdraw. Congo's government in Kinshasa has voiced skepticism over their plans for withdrawal and been infuriated by rebels' declared plans to keep control of the city's airport.
---