Africans mark significant progress on World AIDS day
Health authorities report that the continent has seen deaths from AIDS and new HIV infections on the decline in recent years, and the social stigma against those with the disease is lifting.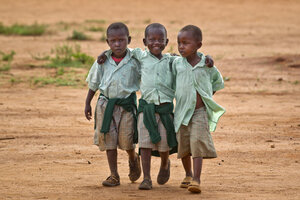 Ben Curtis/AP
Governments, civil society groups, and people with AIDS in Africa marked World AIDS Day on Saturday, with growing optimism for an AIDS-free generation as reports are showing the epidemic has stabilized.
Civilians gathered in public places to mark the day when the world remembers lives lost from the epidemic. From stadiums to small market centers and churches, hope registered as many who had gone public with their status gathered and proclaimed that the disease is no longer a "death sentence."
"As we remember those who have succumbed to this disease, we must resolve today that we must win this war about HIV/AIDS. If we lose it, humanity stands the risk of being wiped out," said Kalonzo Musyoka, Kenya's vice president in Nakuru town, where he unveiled Kenya's Equity Tribunal, an antidiscrimination panel for people living with HIV.
Kenya is the first country in the world to launch such a tribunal, which will enforce laws and regulations to eliminate discrimination against people living with HIV, according to Mr. Musyoka. It will address discrimination due to HIV such as dismissal from employment or denial of services.
"This is a bold step towards eliminating stigma and looking after the rights of the people," said Musyoka.
The tribunal is one of the measures African countries are taking to end exclusion for people with HIV. In the continent, AIDS-related deaths have fallen by 32 percent in the last six years, according to the UNAIDS 2012 Global Epidemic Report. The report also noted that new infections are on the decline: In sub-Saharan Africa, the most affected region, an estimated 1.8 million were infected in 2011 compared with 2.4 million in 2001.
---