Ghana pulls off sixth 'free and fair' election in model for region
Despite problems with the voter registry and allegations of vote rigging, Ghanaians have once again chosen their president: John Dramani Mahama.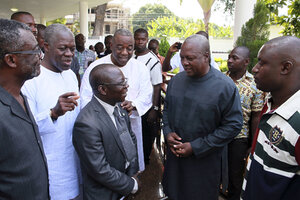 Christian Thompson/AP
Ghana has once again voted freely and fairly in a presidential election, electing its president for four more years and bolstering its image as a stable democracy in a region where smooth elections are rare.
The election victory for President John Dramani Mahama followed the death of former President John Atta Mills in July as well as a contentious campaign largely fought over how best to manage the country's education system.
"There were hiccups here and there, [which were] purely administrative, and once they were addressed, everything proceeded smoothly," says Pakalitha Mosisili, chairman of an observer group from the commonwealth. "We have no hesitation in declaring the 2012 Ghana elections free and fair, transparent, and leading to a credible result."
Those hiccups included problems with a new voter fingerprint verification system and delays in getting ballots to the polls. And the country's opposition New Patriotic Party (NPP) has claimed widespread fraud and vowed not to accept the official results without an audit, an issue which may be resolved in court.
But compared with its neighbors, Ghana's sixth presidential election since 1992 was a remarkable example of democracy at work in a region where it is still an exception rather than the rule.
"We have come to accept the fact that politics, even though it divides us, cannot break the family unity we have as Ghanaians," says Franklin Oduro, deputy director the Center for Democratic Development think tank. "We think that whatever peace we have, no matter how small it is, we need to protect it, we need to consolidate it."
The first test of that commitment came not on polling day, but in July, when President Mills passed away. President Mahama was smoothly elevated to power, tasked with leading the ruling National Democratic Congress's campaign against NPP candidate Nana Akufo-Addo, who had run in 2008.
---