Central African Republic preps for peace talks as regional troops arrive
Amid a weak truce, CAR officials and rebels are preparing to negotiate in Gabon as South African, Chadian forces arrive to secure the Central African Republic's capital. What are the prospects for peace?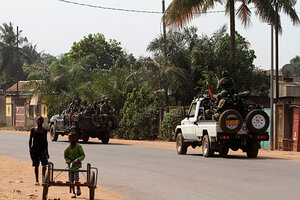 Luc Gnago/Reuters
With a fragile truce keeping rebels around 50 miles from the capital city and peace talks set to begin in nearby Gabon, it was all about the arrivals and departures in Central African Republic (CAR).
On Monday, leaders from the Seleka rebel coalition – which has captured vast swaths of the country since last month and now stands perilously close to the capital, Bangui – jetted out of their jungle stronghold on a UN plane to Gabon for broad negotiations that are set to start sometime this week and include members of the political opposition and civil society.
At the same time, embattled President François Bozize, whose resignation is now a key rebel demand, shuttled to neighboring Congo-Brazzaville to meet his counterpart and lead peace mediator Denis Sassou Nguesso.
Meanwhile, coming from the opposite direction were some 400 South African troops, dispatched by President Jacob Zuma over the weekend on the heels of other fresh deployments from regional armies, most prominently Chad, to try to secure Bangui.
While both the rebels and government have said they are serious about talking peace, observers are skeptical about what progress can be made.
What started out as a disagreement over poor conditions in the Army and unkept government promises quickly spiraled into a full-blown rebellion, as formerly opposing rebel groups came together.
---