Pistorius lived in elite, gated, alternate South Africa
Oscar Pistorius, who killed his girlfriend last week, was granted $113,000 bail today but told he can't live in his posh Silver Woods estate ahead of a June 4 trial date.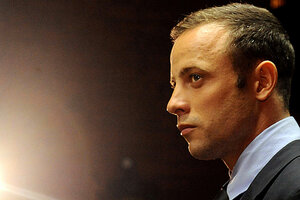 AP
Life in urban South Africa is so synonymous with crime and fear that a 90-acre gated community like Silver Woods Country Estate can seem like a paradise. Sprawling and secure compound living is prized as a crime-free, alternate version of South Africa.
Silver Woods, as it is known, located in a suburb east of Pretoria, is where Oscar Pistorius resided, and where, on Valentine's Day, the sports and cultural icon shot and killed his girlfriend in a bathroom off their bedroom. The compound wasn't as safe from crime, it seems, as Mr. Pistorius might have thought.
The case of the gun-wielding double-amputee known as the "Blade Runner," who made history in the recent London Olympics by sprinting on fiber carbon struts instead of legs, has brought a focus to the elite Afrikaner world of the rich and famous that Pistorius inhabited, a world not far from violence yet lived in comfort.
Today a South African court granted bail to Pistorius at $113,000, saying his fame meant he was not a flight risk. The court said his trial would commence in early June. Family members of Reeva Steenkamp, the girlfriend and victim, were in court for the first time today.
---