Tacit French support of separatists in Mali brings anger, charges of betrayal
The rise to power, again, of the ethnic Turareg MNLA has Malians angry and wondering about Europe's role and commitment to their security and unity.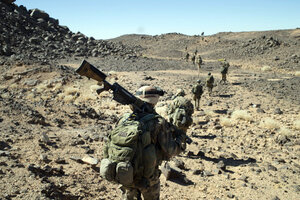 Arnaud Roine/ECPAD/AP
As the war to rid Mali of Islamic rebels winds down, frustrations are building over a French military now widely seen as siding with a controversial ethnic faction that had previously cooperated with Al Qaeda.
In the cities of Gao and Timbuktu where the French in January chased out one set of extremists, anger is building over French acquiescence with another group of separatists, known as the Movement for the National Liberation of Azawad, or MNLA.
In recent days, the MNLA separatists, mostly of ethnic Tuareg heritage, and who a year ago aggressively set themselves up in the north and more recently collaborated with Islamic radicals, have begun to exercise authority and make claims on power and money.
Formal paperwork issued, for example, that requires vehicles and drivers moving in and out of the northern region of Kidal, to pay tax, are just some examples. The papers are stamped with a "State of Azawad" seal, the logo of the MNLA.
New revelations that the MNLA is setting up a parallel government under French auspices has sparked outrage not only here, but throughout Mali.
"The MNLA has benefitted from the intervention more than any other group" says Gao resident Abba Maiga. "So now I have to ask, did France intervene to save Mali, or did they intervene to save the MNLA?"
Many Malians wonder if France is actually committed to restoring the territorial integrity of Mali. And while France and its African allies have made considerable progress in driving the Islamist rebels from their strongholds, the fact remains that the question of Tuareg separatism remains one of the key political disagreements that plunged Mali into chaos in the first place.
Mr. Maiga, a Gao resident who lived here both when it was occupied by the MNLA and then by the mosaic of Islamist rebel groups recently driven out by the French-led forces, says he was ecstatic when the French first intervened.
---