Hot idea to keep African farmers planting harvests 100,000th participant
Insurance pay-offs to small farmers in Kenya and Rwanda give them courage to plant, despite bad weather predictions. Cell phone technology makes it possible.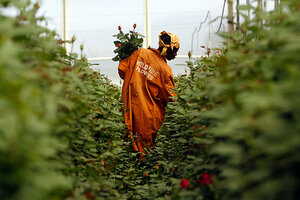 Antony Njuguna/Reuters/File
An innovative insurance policy that helps protect East African farmers against failed rains or pest-swarms that would eat their crops now has its 100,000th policyholder – growing remarkably from fewer than 200 participants four years ago. 
The Kilimo Salama project, as it is known, installs weather-monitoring stations in heavily-farmed areas in Kenya and Rwanda. Those stations, fitted with cellphone SIM-cards, automatically send weather data to central computers at the project headquarters.
Using special software designed by agronomists, the computers compare the data against historic averages, and then calculate the risk of a poor rainy season and of crops withering. 
If such an outcome seems likely, farmers who paid small premiums to insure against a poor harvest will then automatically receive compensation, sent to cellphone-based bank accounts. 
The effect is that growers who used to be afraid of sinking too much money into seeds and fertilizer, fearing that a ruined season would leave them penniless, are now investing more and taking risks on new cash crops. 
Kilimo Salama is one of a raft of new innovations in small-scale agriculture that have been quietly sweeping Africa's farms, boosting production, crop yields, and family incomes. 
 
"The key thing for products like this to work is they have to be simple, bring a clear business advantage, and fill a gap that was not easily accessible before," says Rose Goslinga of the Swiss-based Syngenta Foundation, who helped conceive the insurance initiative. 
Kilimo Salama – its name means "safe farming" in Swahili – had only 185 people signed up by the end of 2009, the year it started. 
It took time to explain this kind of unusual, tech-based system to poorly-educated farmers at first, says Jacobeth Barno, the project's field coordinator in Kenya.
"They thought insurance was for people in towns with houses and cars, or for big companies, not for them," she says. 
Moreover, the popularity of the policy appears so far to have overcome concerns that farmers would complain about the size of their compensation. The project, backed by Syngenta, the World Bank, and the European Union, has now grown to more than 60,000 farmers in Kenya and 40,000 in Rwanda this year. 
One is Joseph Mkopi, who farms maize, wheat, and beans in western Kenya. He signed up after an earlier drought destroyed a whole year's crops, leaving him close to broke. 
"It has given me peace of mind, so I invest without fear of losing everything to risks that are beyond my control," he says in a phone conversation.  
"When I lost part of my crop to drought in 2011, I was compensated, which meant I was still able to pay school fees, buy seeds for a new crop, and keep food on the table for my family."
For Christopher Chirchir, another farmer in western Kenya, it is the innovative agricultural advice sent by text message that is as helpful to boosting his income as the insurance itself. 
"It has helped me advance in agriculture, benefiting from the new technologies and improving my outputs," he says. "Plus the compensation paid in bad times means I can buy new seeds without having to take loans." 
Ms. Goslinga adds: "The insurance gives farmers the confidence to invest more of their money in better seeds, and in fertilizer and other inputs, that together give better harvests and therefore drive rural economic growth." 
---