Zimbabwe: Mugabe sworn in but South African President Zuma a no-show
Strong man takes the reins for a fifth consecutive term as his chief political rival in Zimbabwe calls the inaugural a 'party held by a robber.'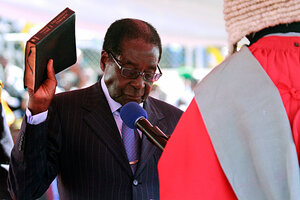 Tsvangirayi Mukwazhi/AP
In a Chinese-built stadium holding 60,000 persons outside the capital, Robert Mugabe was sworn in again as leader of Zimbabwe, a stretch of time dating to 1980 that has seen the elder strongman shift from liberation rebel to autocrat, if not dictator. 
In his opening statements after the ceremony Mr. Mugabe promised to continue with controversial reform policies that will shift ownership of foreign owned businesses and lucrative mining concerns into the hands of black Zimbabweans in majority-ownership arrangements, saying this would foment an "economic miracle."Â 
Today's inaugural on a special national holiday follows a bitterly contested election and a ruling by the Mugabe-selected constitutional court of Zimbabwe that declared the vote free and fair. Mugabe's chief opponent Morgan Tsvangirai had contested the elections even as his lawyers were threatened by the court with arrest for persisting with a claim that some 900,000 people were turned away from voting booths on election day. 
The inaugural was, significantly, not attended by South African president Jacob Zuma, and a number of other regional heads-of-state also demurred. Mr. Tsvangirai, who is also the outgoing prime minister of Zimbabwe, also did not attend, with his spokesman describing the ceremony as a party held by a "robber" and calling Tsvangirai a "victim."Â 
Mugabe is serving his fifth consecutive terms as president, having served after independence in 1980 (before 1987) as prime minister. While Zimbabwe's own election commission found significant problems with the vote, including voters turned away, different regional groupings like the African Union appeared to legitimate the ballot on the grounds that, unlike 2008, it was a peaceful election. 
Mugabe today returned to his core message as liberator of a nation that he insists has been unfairly demonized and exploited by the West. 
"We are not curtsying or bowing to any foreign government, however powerful it is or whatever filthy lucre it flaunts," he told the crowd. "We abide by the judgment of Africa. America dares raise a censorious voice to contradict Africa's verdict. Who gave them the gift of seeing better than all of us?''
As part of his theory of liberation, the 89-year-old has pushed an "indigenization" policy to redress perceived injustices and that was used a decade ago to chase white farmers off their land. Whether Mugabe will fully implement this policy in coming years, or just refer to it rhetorically to stir his national base, is unclear. Today amid the cheering crowds, however, he said the government will focus on mining. 
"The mining sector will be the centerpiece of our economic recovery and growth. It should generate growth spurts across sector, reignite that economic miracle which must now happen."Â 
Yet despite a large showing of colorful crowds, free T-shirts, and soft drinks, the general atmosphere around the capital Harare is not one of jubilation. 
As the Monitor reported yesterday:
The inaugural also comes as new power cuts in the suburbs and a shaky stock market roil the country. And in the economic community, concern is growing over potential government appropriation of foreign banks and mining firms – part of Mugabe's old program of national liberation. 
Outgoing Prime Minister Morgan Tsvangirai, who ran against Mugabe, has called the elections rigged. He will not attend the swearing in, which his aides described yesterday as "a party held by a robber."  
Yet in some ways, an atmosphere of dismay after the elections in many quarters is most powerfully symbolized by the death in police custody last week of a young political activist, Rebecca Mafukeni. Â 
Ms. Mafukeni, who was 29, worked for the Movement for Democratic Change (MDC) led by Mr. Tsvangirai. She was well known in Harare civic society circles. She died after being refused medication at Harare's maximum security prison where she was incarcerated. She faced charges involving the death of a policeman in 2011 in a case described as ludicrous by human rights groups, and which is seen as an attempt to sideline opposition voices, since some 29 other opposition MDC activists were also inexplicably charged.
Makfuni is one of five suspects held on remand since the policeman's death, and in conditions, including solitary confinement for nine months that the Zimbabwe Lawyers for Human Rights described last week as "the worst of prison's inhumane conditions," that include raw sewage flowing into her cell.
The announcement of Makfuni's death sparked immediate anger from civil society groups, some of which had been silent following the elections that were officially described as a 61 percent landslide, but that may have involved irregularities of up to 2 million out of 6 million voters.
"The reason why the death of activist Rebecca Mafukeni has sparked outrage is because this is yet another death of an activist whose crime is being a member" of the opposition, says Harare writer and social commentator Phillip Pasirayi.
"People no longer trust state institutions because they have become hostile to their own people. This is just but a small reflection of the extent to which [Mugabe's ruling party] ZANU PF goes…Jail in Zimbabwe  is not for the faint-hearted, as it is a death sentence in itself," writes veteran journalist Banarbas Thodhlanas.  
Gladys Hlatshwayo, head of the Zimbabwe Civic Education Trust, says the sudden fury over a death in prison, following the deliberate withholding of treatment, is "an  indictment of the state in Zimbabwe. Is it not a shame that in this day and era, we still have people dying because the state, which is supposed to be No. 1 protector of human rights, has denied rights holders their constitutionally guaranteed right?"
---