America walks diplomatic tightrope with pro-business, yet authoritarian Rwanda
(Read article summary)
In the past couple of years, the US has become increasingly willing to call out President Paul Kagame for his authoritarian tendencies, albeit in mostly muted ways.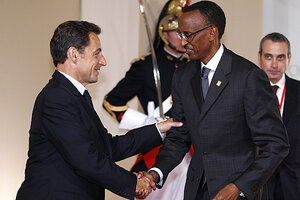 Eric Gaillard/AP
Three Rwandan opposition parties have asked the United States to use its influence to help resolve social and political tension in the country before the presidential election in August.

Rights groups say the government and the ruling Rwandan Patriotic Front (RPF) have become increasingly intolerant of dissent and criticism in the run-up to the vote, which President Paul Kagame is widely expected to win.

In an open letter last week to the U.S. ambassador in Kigali, Stuart Symington, and seen by Reuters on Sunday, the three-party coalition said: "We strongly believe that your leverage as the ambassador of the United States of America in Rwanda can help diffuse tensions as the presidential elections loom and... (the) military crisis deepens."

...The coalition asked for U.S. assistance in opening up politics, changing anti-genocide legislation and guaranteeing the security forces remained outside politics, and sought a postponement of the ballot, due take place on Aug. 9, to allow more time to ensure it is transparent and free.

"Unless (development) efforts are underpinned by democracy, freedom and the rule of law, the achievements in that area will not be sustainable," the parties said.
US policy towards Rwanda since the genocide has always been a mixed bag.
On the one hand, diplomats are constrained by the fact that the Clinton Administration chose not to intervene in the genocide – and deliberately prevented others from doing so.
---