Argentina vs. Nigeria: Big test for Argentina's coach Maradona
(Read article summary)
Argentina coach Diego Armando Maradona was a brilliant player. But as national team manager, there's been more trouble than brilliance – like some of his team picks, for example.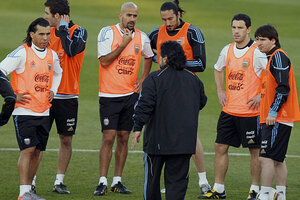 Ricardo Mazalan/AP
This is it: The moment of reckoning has arrived for Diego Armando Maradona. It will either be the comeback to end all comebacks or another train wreck. It's with a heavy heart that I am betting on the train wreck.
Maradona was a brilliant player and is a troubled man. In just under two years as national team manager the troubled part has been a lot more evident than the brilliance.
His reign can perhaps best be summed up by the disorganization that surrounded the naming of his squad. Maradona kept journalists waiting for more than three hours before finally revealing his 30 picks, leading some people to think he made up his mind literally at the last minute.
IN PICTURES: 10 World Cup players to watch
When he did make the announcement, he inexplicably left out Javier Zanetti and Estebam Cambiasso – both of whom won the treble in an outstanding season for Internazionale – but included Martin Palermo and Juan Sebastian Veron, two once-great players now well past their prime.
---