Ghana vs. Serbia: Black Stars' win puts Africa on the map
(Read article summary)
The Black Stars dominated the second half of the Ghana vs. Serbia match making Ghana the first African team to win a game this World Cup.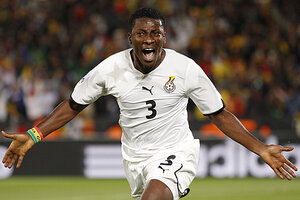 Luca Bruno/AP
Ghana today became the first African team to win a match in the first World Cup to be held on African soil.
"I think it's a piece of history that we just saw," former German soccer star Jurgen Klinsmann told fellow ESPN commentators after the Ghana vs. Serbia game. "I think it's awesome for this continent."
The South African crowd at the match bore witness to that, erupting in elation after the final whistle. But they had more than just African solidarity to cheer for: They had just been treated to probably the most exciting match so far this World Cup.
IN PICTURES: 10 World Cup players to watch
Ghana looked impressive against a technically superb Serbian team that won seven of ten of their qualifying games coming into the Cup. By the end the worn-down Serbians had to be thankful the final score wasn't more lopsided.
The Black Stars came out hard at the beginning of game, but were held scoreless in the first half.
Undeterred, they repeated the pressure early in the second half.
Prince Tagoe, who plays plays professionally in Germany for Hoffenheim, lit up the right flank, creating many chances, at one point pinpointing a cross on left-winger Andre Ayew's head.
It should have been a sure goal.
A few minutes later, Asamoah Gyan shaved the post with another header.
By that time of the match, Ghana controlled the flow of the game with crisp, short passes and lovely runs toward goal.
---