World Cup: USA 1-1 draw with England important, not impressive
(Read article summary)
The fact that the USA held England to a 1-1 draw in the World Cup Saturday was an accomplishment. But the result raised more questions about England than it answered about the USA.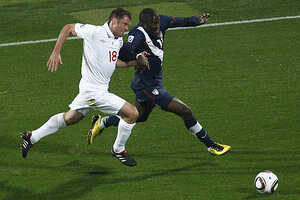 Brian Snyder/Reuters
By the reckoning of the score sheet, the USA will count its 1-1 draw with England as a fantastic accomplishment.
This was England, after all, the team that swept through World Cup qualifying as though armed with bayonets. They had not merely qualified for the tournament, they had stormed its gates, signaling to the world that this England side was ready to leave behind 20 years of mediocrity and make a serious run at the cup.
Yet on a cool day in Rustenberg, South Africa, it was difficult to escape the impression that this was, once again, an England somehow less than the sum of its parts, and that the USA's draw – while respectable – was something less impressive than it would have seemed only a day ago.
IN PICTURES: 10 World Cup players to watch
England was supposed to be a yardstick for the USA. Like Spain and Brazil in last year's Confederations Cup, England was supposed to be a soccer doctorate in 90 minutes – a test to see if the US had, at last, graduated to the Ph.D. level of world soccer. Or, at least, how far it still needed to go.
Instead, the game was more an indictment of England's championship credentials.
The US competed admirably and, at times, equally with a team ranked No. 3 on ESPN's World Soccer Index. Yet it was hardly a game to stir the soul.
---