Let's not stereotype Nollywood films
(Read article summary)
Nigerian films are contradictions in form and content. But they need not remain objects of ridicule and misapprehension by Western writers apparently motivated by a desire to celebrate Africa and Africans.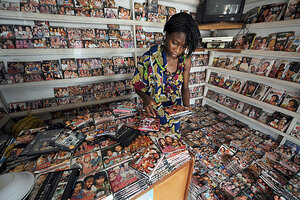 PIUS UTOMI EKPEI/AFP/NEWSCOM
The great popularity of Nigerian movies in Africa is often noted but rarely explained.
In The Nation, Emily Witt takes a valuable stab in the process of explanation in a review of a collection of essays on "Nollywood" published by Indiana University Press, an important source of fresh books on sub-Saharan Africa.
Witt shrewdly observes that African movies of the sort made by such celebrated Francophone directors as Sembene are "burdened with ideology" (doing what elite Africans think Europeans consider to be art) and far more popular abroad (with the very Europeans who often funded the films in the first place) than at home in Africa, partly because the high-minded pretensions and "puritanical didacticism" of the films drove audiences away.
By contrast, Nigerian films about everyday urban life – these are do-it-yourself videos without pretensions and frankly pandering to mass tastes – represent a radical re-ordering of African cinema. Hence the prominent role granted the supernatural, romance, corruption and crime.
Unfortunately, Witt's actual experience viewing Nigerian movies seems limited to rummaging through clips available on Youtube. As a result, while trying to defend the value of Nollywood content, she unfairly stereotypes and denigrates Nigerian films, fixating on the themes of juju, magic, and mayhem that do indeed dominate many Nigerian movies though hardly all.
Witt even dismisses the content altogether, seeing the films instead as chiefly valuable as signs of rebellion. Yet Nollywood content, while often trivial and offensive, sometimes rises to the level of art and social criticism.
---