USA vs. Slovenia: Americans must embrace role of Goliath to beat this David
(Read article summary)
USA vs. Slovenia is a test to see how far the USA has or has not come – and if they can outgrow a David vs. Goliath complex. While proving they can match World Cup favorite England, in the past they have repeatedly lost to lower-ranked Eastern bloc countries.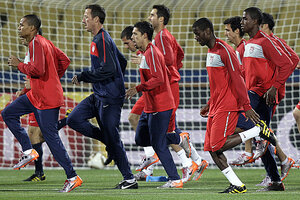 Kirsty Wigglesworth
The astute student of World Cup history will have circled one game on the calendar for the Americans. And it is not USA vs. England.
It is USA vs. Slovenia.
The two play today, and a loss for USA will virtually eliminate the Americans from the World Cup. A win will put USA in position to get to Round 2. And a tie will leave everything to play for in the final opening-round Group C match against Algeria.
IN PICTURES: 10 World Cup players to watch
Slovenia, you say?
Isn't Slovenia a mere remnant of a country – a demographic hiccup of 2 million people? In qualifying, didn't it lose a match to lightweight Northern Ireland? And in its only other World Cup appearance in history (2002), didn't it lose all three games?
All true. And yet if you still think Slovenia doesn't present a serious threat, you haven't been paying attention.
America has developed into a team with a bit of a David vs. Goliath complex.
The best teams bring out the best in the US. In four of the past five World Cups, the US has punched above its weight in at least one opening-round match:
1994: USA 2-1 Colombia
2002: USA 3-2 Portugal
2006: USA 1-1 Italy
2010: USA 1-1 England
---