Germany vs. Ghana: Black stars become first African team to advance
(Read article summary)
Ghana will carry the hopes of a continent into its second-round match against the US on Sunday. Despite losing in today's Germany vs. Ghana match, the Black Stars advanced on goal differential.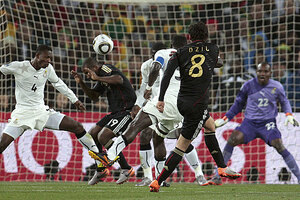 Ina Fassbender/Reuters
Ghana started this match much the way they began the other two games of this World Cup: by looking like one of the most creative, dangerous, attractive teams at the tournament.
They took the game to the Germans.
Ghana's Black Stars – wearing the all-white strip that Germany normally wears – sliced through the German defense pounding the goal early.
IN PICTURES: Top 2010 World Cup controversies
The Germans – looking like a SWAT team in their new all-black uniforms – could not seem to get a handle on the slippery Ghanaian attack.
Even former German star (now an ESPN commentator) Jurgen Klinsmann admitted that his countrymen were outplayed. "Overall I think Ghana had the better chances," he said, adding, "but you've got to put [the ball] in the goal."
Indeed, that has been Ghana's Achilles Heel in this World Cup. Despite dominating opponents and creating chances other teams can only salivate over, they cannot seem to put the ball in the back of the net.
---