World Cup: How the USA got it so wrong against Ghana
(Read article summary)
Tactical decisions cost the USA team dearly in this World Cup, and they could not make up for those to beat a solid Ghana team.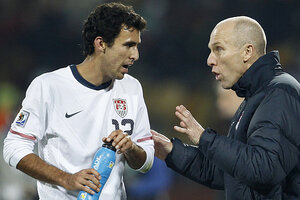 Brian Snyder/Reuters
Of all America's exits from the World Cup, this one will go down as the greatest opportunity missed.
Flawed though the USA was – fatally, as it turned out – there lingers the sense that the team left its own story at this World Cup unfinished. For the first time, perhaps, the USA is going home when it not only expected more, but seemed capable of delivering it.
There is no shame in losing to Ghana, 2-1, in extra time. The 18 places between the No. 14 USA and No. 32 Ghana in the FIFA world rankings suggest a greater gap than there is, perhaps.
IN PICTURES: Top 12 Goals of the Second Week
IN PICTURES: Top 10 Goals of the First Week
Yet there is no doubting that Ghana is a team that the USA could – and maybe should – beat with some regularity. And in that fact lies the USA's disappointment.
Never in four World Cup 2010 matches could the USA summon for 90 minutes the defensive team effort that it summoned in last year's 2-0 win over then-world No. 1 Spain.
Had Algeria's Rafik Djebbour kept his early shot six inches lower, the USA would have gone behind within the first 15 minutes of that game, too.
But never was this so evidently the coach's fault as in the loss to Ghana.
The sports maxim says that "players must come ready to play." Saturday, however, was a lesson that players are often only as good as the system in which they are placed.
---