Spain vs. Portugal: Where was Cristiano Ronaldo?
(Read article summary)
The Red Fury go on to face Paraguay in the quarterfinals after dispatching with a Portuguese team that could not get the ball to the feet of its top striker, Cristiano Ronaldo. Spain vs. Portugal ended 1-0.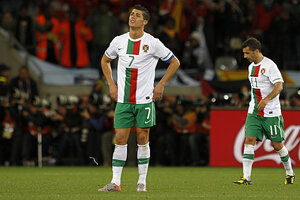 Armando Franca/AP
Star-studded Spain maintained bragging rights on the Iberian Penninsula today by edging out its poor cousin, Portugal, 1-0, in the second round of the World Cup.
The fast-paced, skill-rich match was one both connoisseurs and soccer neophytes could enjoy equally. And it was made all the more intriguing thanks to the Ibero grudge match factor.
In the end, the best team won. But the result was always going to come down to this: Would star Portuguese striker, sex symbol, and prima donna Cristiano Ronaldo have a break-out performance or not?
IN PICTURES: Top 2010 World Cup controversies
Unfortunately for Portugal, Ronaldo's only breakout performance today had to do with his acting. But the referee turned a cold shoulder to his theatrics, mostly refusing to reward him for his diving and writhing after slight fouls.
Spain, as always, looked commanding at midfield, knocking the ball around with ease and swagger, and searching for holes in the back of the Portuguese defense. But they couldn't find any, and Portugal saw the best goal opportunities in the first half.
Ronaldo nearly created a goal in the 28th minute with a rocket of a free kick from nearly 40 yards out. The Jabulani, as the controversial new World Cup ball is called, worked its magic, swerving mysteriously at the last moment as it careened toward world-class Spanish goalkeeper Iker Casillas, who used his chest and then forearms to bump the ball just above the heads of the ravenous Portuguese attackers.
---