Why are South American teams dominating this World Cup?
(Read article summary)
There are more South American teams than European teams in the World Cup second round. That hasn't happened in decades. What's going on?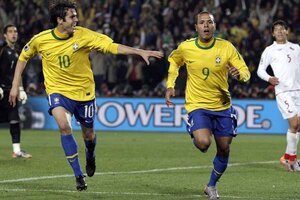 Ivan Sekretarev/AP Photo
Half of the teams in the the final eight of World Cup 2010 are from South America.
Why?
There are many theories about the dominance of South American teams in this World Cup, but few indisputable facts.
When Marcelo Bielsa, as studious a soccer coach as ever lived, was asked why South America had more teams in the second round than Europe for the first time in decades, the Chilean coach responded: "I don't really know. I simply prefer to say nothing because I don't know what to say."
Indeed. Football is often inexplicable.
IN PICTURES: Top 2010 World Cup controversies
An Italian colleague has a theory that this World Cup is a reflection of the new world order. It is the Cup where the economically depressed and decadent Europeans (and Asians) were beaten by the growing and exuberant Latins.
Italy? Terrible. France? A disgrace. England? Ha ha ha. Greece? Rubbish.
But Argentina? Unbeaten and irresistible.
Brazil? The favorites and deservedly so.
---