Germany vs Spain: Patience pays as Puyol and the Red Fury make World Cup history
(Read article summary)
Spain will go to the World Cup championship match for the first time after a header by Carles Puyol helped them expose the weaknesses of Germany's counterattacking style. In the Germany vs Spain semifinal, Spain wins 1-0.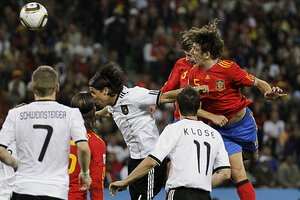 Matt Dunham/AP
Carles Puyol, you are forgiven!
All of Spain is now worshiping at the feet of the rough-and-tumble defender with the Heavy Metal hairdo.
After missing a great chance on a header in the first half, Puyol came flying in on a corner kick in the 72nd minute to smash a line-drive header past the outstretched arm of German goalkeeper Manuel Neuer and into the goal.
It was sweet redemption for Puyol, glory for the longsuffering fans of Spain, and a first-ever ticket to the World Cup final for the Red Fury.
The victory was well-deserved as Spain dominated the Germans and clipped the wings of a soaring team that had been chewing up and spitting out top-class opponents.
How on earth did that happen? Simple. Spain stuck to their style.
They dominated possession of the ball, dictated the pace and flow of the game, and patiently knocked the ball about in their now-famous "Tiki-Taka" style of pinball-wizard passing.
In the end, their patience paid off, just as it has throughout the World Cup. They may not win by much, but they win. And they look great doing it.
From the opening whistle they got their Tiki-Taka going, complete with backheel passes and lovely displays of dribbling. They even created a few chances on goal. But for the most part, Germany locked down the goal mouth, putting at least five players in the box every time Spain threatened.
---