Somaliland elections: Why the world ignores Horn of Africa's oasis of stability
(Read article summary)
The self-declared republic of Somaliland voted this past weekend for a new president. Somaliland is the one corner of Somalia that functions, but the international community refuses recognize it as a nation-state. Is the West scuppering its best chance for democracy in the region?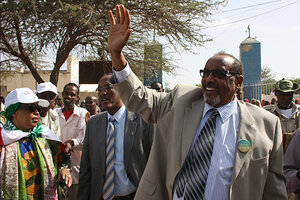 Barkhad Kaariye/AP/File
Johannesburg, South Africa
A little over a year ago, I boarded an aged Russian propeller plane in Djibouti for a short flight into Somaliland. It was my first and, so far, my only visit to that self-declared republic, which broke away from Somalia 20 years ago while no one seemed to be looking.
Strangely enough, the world still isn't looking.
Last weekend, Somaliland held elections and – unlike elections in more respectable nation-states like Kenya, Sudan, and Burundi – there were no claims of foul play, no international election observers citing "irregularities." Not even a "hanging chad." Al Qaeda issued warnings for voters not to participate, but the voters ignored them. And when the results came in, and the country's president lost, there was a peaceful transfer of power to the president's rival.
Of course, it's easy to ignore Somaliland. Unlike Sudan, Nigeria, and Angola, it doesn't produce oil. Unlike Burundi, it hasn't had a recent spate of genocide. Unlike Kenya, it isn't a vibrant commercial hub for the region with occasional self-destructive tendencies. Somaliland's biggest export is mutton, and I can't remember the last time the international community intervened in a country over mutton. Even when it's nice and lean.
---