World Cup doubters were wrong: South Africa hosted a great tournament
(Read article summary)
With the World Cup final match between Netherlands and Spain tonight, South Africa confounds skeptics who predicted high crime rates and inept management of the World's largest sports event.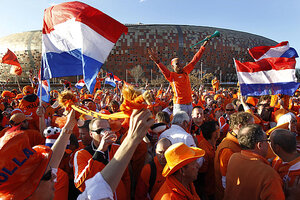 Jerome Delay/AP
Johannesburg, South Africa
Here's a question I haven't thought about for about a month: Can South Africa really hold the World Cup?
With the final match between Spain and Netherlands looming tonight, the World Cup is almost over. Day in and day out, South Africa has shown itself to be every bit as capable as Germany, Athens, or Beijing to hold a major sports event. The skeptics were many, and the skeptics were wrong.
Three hundred thousand foreign visitors came to these games, and while not all of them were happy with their team's performance – this isn't kindergarten, where everyone comes out a winner – most of them have gone home safe and sound, and impressed with the host nation.
---