Naomi Campbell tells war crimes tribunal she got 'dirty rocks': Were they blood diamonds?
(Read article summary)
Naomi Campbell reluctantly testified at a UN-backed war crimes tribunal today over whether former Liberian president Charles Taylor gave her one or more 'blood diamonds.'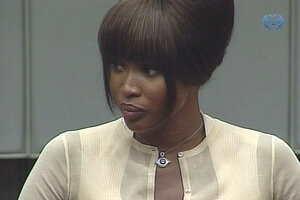 Special Court for Sierra Leone/via APTN/AP
Johannesburg, South Africa
Naomi Campbell is giving testimony today at a special UN war crimes tribunal investigating former Liberian president Charles Taylor, who is accused of 11 counts of war crimes including rape, murder, and dismemberment, and the control of diamonds to fuel a brutal civil war.
The British supermodel, who arrived at the ICC court in The Hague on Thursday morning, was subpoened to testify on whether she received one or more uncut diamonds as a gift from President Taylor after a 1997 dinner hosted by his South African counterpart, Nelson Mandela.
Mr. Taylor has denied using "blood diamonds" to pay for his military activities in the civil wars of Liberia and Sierra Leone, so Campbell's testimony would be the strongest evidence yet of Taylor's ties to the diamond trade.
Campbell's opening statement
In her opening statement, Campbell told the UN court that a pair of men knocked on her hotel door after the Mandela dinner, and gave her a pouch of "dirty stones," adding, "I guess they were diamonds." There was reportedly no note or explanation in the pouch.
According to the BBC, Campbell told the court that the next morning she told US actress Mia Farrow, who had also attended the dinner, and her former agent Carol White what had happened, and one of the two said, "That's obviously Charles Taylor." Campbell says she responded, "I guess that was."
---