Nigeria's 2011 presidential race tests North-South powersharing agreement
(Read article summary)
Nigeria's 2011 presidential race is squaring former president Ibrahim Babangida and former vice president Atiku Abubakar – both Muslims from the north – against incumbent Goodluck Jonathan from the Christian south.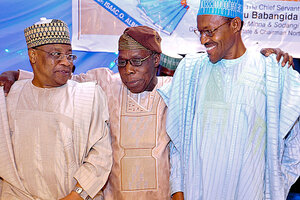 Afolabi Sotunde/Reuters
With the entry of a former Nigerian president and a former vice president into the presidential fray, the 2011 Nigerian elections are off to an early start, setting the stage for a leadership change that could decide whether the oil-rich nation will finally take up the international and regional role that its economic importance would seem to give it.
The sudden emergence of former military president Ibrahim Babangida and former vice-president Atiku Abubakar as presidential candidates was not unexpected. Both are Muslims from Nigeria's north. But their emergence poses some interesting questions.
What, for instance, happens to the incumbent, Goodluck Jonathan, whose rise to the number one slot was made possible by the sudden death of President Umaru Yar'Adua?
And what will happen to the gentleman's agreement of power rotation, between the Muslim North and the mainly Christian south, which the long-ruling People's Democratic Party (PDP) has used to help keep the peace between North and South?
"I think Nigeria is strong enough, and has absorbed enough shocks over the last three years that it is ready to handle this question," says Charles Dokubo, director of the Nigerian Institute for International Affairs in Abuja. "I believe Nigeria has matured to the point that where you come from does not matter anymore."
---
Follow Stories Like This
Get the Monitor stories you care about delivered to your inbox.