South Africa strike: 1.3 million government workers push for wage hike
(Read article summary)
More than 1.3 million government nurses, teachers, and office workers went on strike in South Africa on Wednesday, pushing for higher wages.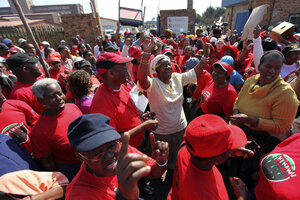 Siphiwe Sibeko/Reuters
Johannesburg, South Africa
A nationwide strike of South African government workers – some 1.3 million of them – threatened to bring South Africa's government to a virtual halt on Wednesday.
Nurses, teachers, clerks, immigration officers, and home affairs personnel all walked out on the job, bringing almost all essential services to a halt.
The strike was called when talks broke down over wage increases. Unions had demanded an 8.6 percent wage increase, while government negotiators stuck to an increase of just 7 percent, along with a small housing allowance.
On Tuesday COSATU Public Service Unions and the Independent Labour Caucus (ILC) rejected government's new offer before taking to the streets.
"Starting today [Wednesday] the strike for public service unions will continue until such time that the employer accedes to the demands of the workers," said Mugwene Maluleke, secretary general for South African Democratic Teachers Union (Sadtu).
According to Reuters, a mid-level South African public servant earns about 8,800 rand ($1,200) a month, compared to the national average wage of 6,383 rand, but many economists say that the bulk of govenrment workers remain underpaid.
A strike culture
---