South Africa-China trade ties: President Zuma bids to shore up 'Gateway to China' status
(Read article summary)
During a South Africa-China trade meeting in Beijing this week, President Jacob Zuma encouraged China to invest in South Africa's infrastructure so the country can boost its commodities processing capacity.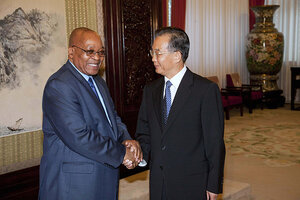 Adrian Bradshaw/Reuters
When I saw the sheer size of South African President Jacob Zuma's China Posse (17 Cabinet Members and 300 businessmen), I could not help but feel that the size of the posse was commensurate with this new "late cycle" China-Africa engagement.
The numbers are breathtaking. The China-Africa trade curve topped a $100 billion from a standing start in just 10 years.
China has overtaken the United States as South Africa's biggest trade partner. The fingerprint trail of the recent engagement is to be found in the trade data. Another example is iron ore and iron ore concentrates; China was importing $297 million a month a year earlier and it reached $549 million last month. This is as hyper a growth curve as curves get.
Chinese Vice Commerce Minister Gao Hucheng has said, "The African continent's biggest economy is China's No. 1 source of African iron, copper, manganese, chrome, and diamonds."
History of China's 'soft power' in Africa
This recent engagement was preceeded by one many centuries earlier and that tale of the Chinese Muslim Admiral Ze is something the Chinese are trying to ventilate in their quest for a China-Africa soft-power story that might resonate today and on which they might hang their hat.
Admiral Ze came to Africa in the 1400s and left behind Chinese DNA from that time. This was recently discovered via some DNA tests done on some villagers in the Lamu Archipelago, near Somalia. So watch that space.
---