Bombshell UN report leaked: 'Crimes of genocide' against Hutus in Congo
(Read article summary)
The striking conclusion of a new draft UN report is that violence perpetrated by Rwandan President Paul Kagame's and Congolese President Laurent Kabila's forces against Hutus could constitute 'crimes of genocide.'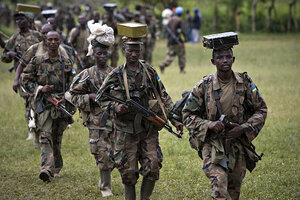 Finbarr O'Reilly/Reuters
Over a year after its completion, the UN mapping report has finally been leaked to the press. The report was mandated by the UN to investigate war crimes and crimes against humanity in the Congo between 1993 and 2003 in the hope that there could be accountability for the violence. To date, almost nothing has been done to bring those responsible to justice.
The report is huge, spanning 545 pages, and deals with war crimes committed by the security forces of Angola, Mobutu's Zaire, Uganda, Chad, Laurent Kabila's government, Joseph Kabila's government, Zimbabwe, the ex-FAR and Interahamwe (and later the FDLR), the Mai-Mai and the many other rebel groups. I will speak at length about the massacres carried out by these forces in later postings. Here, I will speak about the most controversial claim: the massacres carried out by the Rwandan army (RPA) together with the AFDL rebellion (led by Laurent Kabila) against the Hutu refugees in 1996-1997.
---
Follow Stories Like This
Get the Monitor stories you care about delivered to your inbox.