Highlights from leaked UN draft report on Congo atrocities: 1993-1996
(Read article summary)
Guest blogger Jason Stearns offers highlights of the period 1993-1996 from a leaked UN draft report that chronicles mass atrocities in the Congo between 1993 and 2003.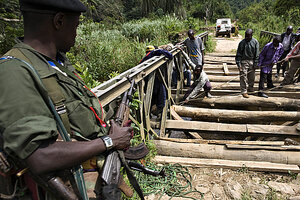 Finbarr O'Reilly/Reuters
As opposed to what some press accounts may have you believe, the UN mapping report is not a report on the Rwandan genocide of Hutu refugees in the Congo. The sections on the massacre of refugees is a small part of a 565-page report that chronicles many different mass atrocities between 1993 and 2003.
The purpose of the report is to jump-start the transitional justice process in the Congo. Other than a deeply flawed Truth and Reconciliation Commission (TRC), nothing has been done to hold those accountable for the hundreds of thousands of violent deaths accountable. The report recommends a new TRC and a mixed tribunal to be set up to investigate and try the worst crimes, staffed by Congolese and foreign judges and prosecutors.
But you need to know what the report talks about, I don't expect you to read 565 pages. Here are the first highlights of the report, chronicling the period between 1993-1996. This period was less intensively documented, I think, as the team focused much of its efforts on the wars:
1. In 1990, Mobutu opened his dictatorship up to multiparty democracy. His main challenge came from civil society and particularly Etienne Tsisekedi's UDPS party, which had strong backing from the Kasaian community. In order to divide the opposition, Mobutu pitted the Katangan opposition against the Kasaian community in that province - hundreds of thousands of Kasaians had moved to Katanga to work on the railroads, in the mines and in public administration. Governor Katanga Kyungu wa Kumwanza rallied his JUFERI youth militia to attack Kasaians and chase them out of the provinces. The team indicates that as many as 780,000 Kasaians could have been expelled from the province between 1993 and 1995, many of them crammed onto freight trains, "coffins on rails," in which many died. Thousands died in these cars, due to unsanitary conditions in IDP camps and at the hands of JUFERI thugs.
---