Tensions between media and ANC on display in South Africa
(Read article summary)
The African National Congress (ANC) appears adamant about a new media appeals tribunal. The media are just as adamant that the tribunal is an attempt to muzzle critical reporting.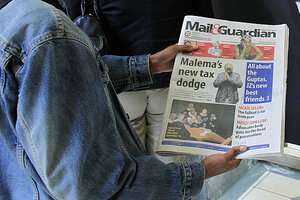 Radu Sigheti/Reuters
Johannesburg, South Africa
I had the rather dubious pleasure of attending a discussion on the matter of the proposed media appeals tribunal and Protection of Information Bill at the University of Johannesburg. Let me warn you from the outset: If you want intelligent, honest, and frank discussion, do not go to these events. Just don't. "Honest" discussion you'll find alright, but it isn't of the frank and intelligent sort.
This particular panel discussion was pitched to the public as a matter of media freedom. "Is media freedom really under risk?" the bumf read. Professor Adam Habib, the referee at this discussion, admonished the gathered parties to speak "with" each other, rather than "past" each other. The professor wanted a meeting of minds.
It's precisely what he didn't get.
The panelists were Mondli Makhanya, editor-in-chief of South Africa's Avusa Media (newspapers); Baleka Mbete, national chairperson of the African National Congress (ANC); and Richard Louw of the Freedom of Expression Institute. Things got a bit personal between Mbete and Makhanya. But more on that later.
STORY: In ANC bill, South African media see threat to press freedom
---