Dissecting Rwandan criticism of UN report on Congo genocide
(Read article summary)
The Rwandan government claims there were flaws in the UN report that implicates it in the possible Congo genocide. Guest blogger Jason Stearns responds.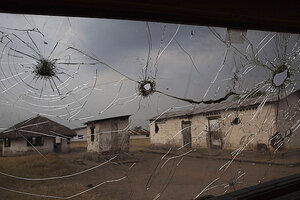 Finbarr O'Reilly/Reuters
I've received some angry emails and comments about the posting on the UN mapping report. Since then, the Rwandan and Congolese governments have responded to the allegations, as well. Several of these points merit reflection.
Some general points:
1. The report's intention is to call for accountability for the mass atrocities committed during 10 years of conflict in the Congo, not to single out Rwanda for "acts of genocide." Indeed, Angolan, Burundian, Ugandan, Chadian, and Congolese officials are also cited for war crimes in the report. While the systematic massacre of Rwandan Hutu refugees stands out as one of the worst crimes committed during the war and deserves to be highlighted, the press should have put the report in context and highlighted its call for a tribunal and a truth and reconciliation commission.
(Read the entire pdf report here, in French.)
2. There is no doubt that some Rwandan opposition members will seize this opportunity to resurrect the notion of a double genocide. The comparison is not helpful in the least. Some 800,000 Tutsi and moderate Hutu were killed during the 1994 genocide. This reports suggests "tens of thousands" of refugees killed by the RPA in the Congo and probably several times that many died from disease and starvation. However, while the figures of refugees that died were nowhere near as high as those of people killed in 1994 genocide, the systematic nature of the killing is deeply chilling and indicates complicity at a very high level within Rwanda's government.
---