South African government makes salary offer to striking unions
(Read article summary)
The strike of 1.3 million South African government workers about salary levels shows the limits of union support for the ANC alliance and President Zuma.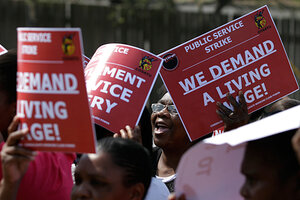 Rogan Ward/Reuters
Johannesburg, South Africa
For three weeks now, South Africa's public schools, hospitals, and other government functions have nearly ceased to function, in nationwide strikes that are as much about political power as they are about civil servant salaries.
Now there is some hope that those strikes may be about to end. Unions representing more than 1.3 million government striking workers have started consulting their membership on whether they should take up a revised government salary package. Indications are that most unions are leaning toward accepting the new offer of a 7.5 percent wage increase and R800 housing allowance, effectively bringing the strike to an end. Others say they need more time to consult with membership.
Accept the wage increase?
The National Education, Health, and Allied Workers' Union (NEHAWU) said the new offer was acceptable, but pointed out that the whole process needed the workers' mandate.
"Presently we are busy consulting our members on whether to accept the new offer or reject it. But the bottom line is that our union has come a long way fighting from 6.5 percent to 7 percent and now a 7.5 percent wage increase," said Sizwe Pamla, NEHAWU spokesman.
He said NEHAWU's National Executive Committee views the new offer as short of the minimum demands of its members of a wage increase and housing allowance.
---