Congo rejects recommendation in UN report on genocide
(Read article summary)
Guest blogger Jason Stearns says that the Congolese government's rejection of recommendations made in a UN report on the possible genocide makes it less likely that crimes will be adequately addressed.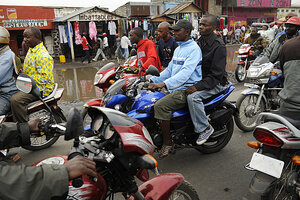 Mary Knox Merrill/Christian Science Monitor
In all of the drama of the UN mapping report, most of the media have forgotten what the report was intended to do: hold the perpetrators accountable, provide the Congolese with some justice for all the crimes that have been committed.
So what are the chances that there will be justice?
Whatever chances there were have been somewhat diminished by the Congolese government's official reaction, a 51-page document. Parts of their response praise the mapping report, saying that it "honors the victims and puts into perspective to the truth, reparations and the guarantee of non-occurrence (sic)." Elsewhere the government seem to nitpick, saying that the report did not deal with the "massive abuses carried out by MONUC," in particular the "massive rapes" against Congolese women. (The report dealt with the period between 1993-2003; most reported MONUC abuses happened after June 2003, although not all of them). They do, however, rightly ask about the responsibility of outside countries - one can only assume western ones - that did not carry out the abuses but financially supported the countries that did.
But the important message comes only on page 48, when it responds to the recommendation to create a mixed court, as in Sierra Leone, to judge the most serious crimes committed during the war. The Congolese government appears to reject this recommendation, saying that it could cause "seriously damaging discrimination against judges and other judicial officials," presumably because they would subjected to outside interference. Instead, they suggest creating "specialized chambers" within the Congolese justice system.
---