Nigeria's power industry reform needs more scrutiny
(Read article summary)
Nigeria's privatization plans for its power grid don't consider the role of the generator and diesel fuel industries, which may have an interest in holding up improvements.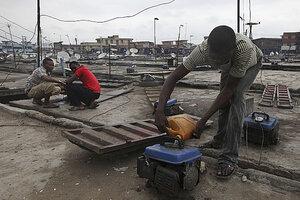 Sunday Alamba/AP
The glaring omission of generator makers and importers of diesel into Nigeria seems to me to be a lack of real politique on the part of analysts of Nigerian politics.
If there are 18 local and foreign companies vying for a share in a privatized Nigerian power sector, it should not be ignored that all the companies involved in generator-making are necessarily foreign companies: Perkins, Volvo, Honda, Deere (I believe), among others. As I said in a previous blogpost, the Nigerian power industry already has private interests vested in it. It is estimated that Nigerians spend U.S. $13 billion a year to fuel generators, which is good business on the part of generator-makers and importers of diesel. As is all too often the case when writing about Nigeria, hard data is hard to come by on who exactly does big business and in what sector, but it will be very curious to me if a lot of moneyed, government-related Nigerians are not already investors in the generator industry, not to mention questions of trade and foreign direct investment from countries these generator companies come from. More urgently, if Nigeria does pull off a better power grid and improved power industry, it could affect the importation of diesel and generators into Nigeria, and thus could impact trade relations.
---