From Christianity and Islam to the LRA: five stories on Africa you really shouldn't miss
(Read article summary)
The antigenocide group the Enough Project gathered five stories on human rights trends in Africa, from a book review on religious faultlines in Africa to a barge ride down the Congo River.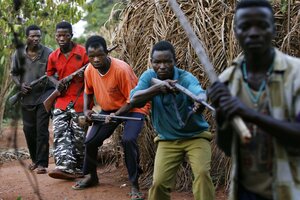 Finbarr O'Reilly/Reuters
Here at Enough, we often swap emails with interesting articles and feature stories that we come across in our favorite publications and on our favorite websites. We wanted to share some of these stories with you as part of our effort to keep you up to date on what you need to know in the world of anti-genocide and crimes against humanity work.
Journalist and poet Eliza Griswold recently came out with a new book, The Tenth Parallel: Dispatches from the Fault Line Between Christianity and Islam, that traces personal stories of believers across Africa and Asia. Maggie Fick reviewed the book for Religion Dispatches magazine online, and wove some of her experiences working in east Africa into her commentary.
The French humanitarian aid organization Premiere Urgence published a slideshow of photos from Bas Uele, Congo, an area frequently targeted by the Lord's Resistance Army. As Enough's own field staff have highlighted in recent reports, the region has become a haven for the LRA militia because of its remote location; the inaccessibility has also prevented many media reports on the suffering. This series of photos and accompanying narration (in French) gives a rare glimpse of life there.
---