UN report on Congo rapes released. Are peacekeepers bad at protecting civilians?
(Read article summary)
Four recommendations for how the United Nations peacekeeping force in Congo can better protect civilians from abuses committed by rebel groups.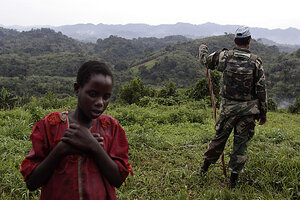 Rebecca Blackwell/AP
The United Nations released a report Monday on the mass rape that took place in and around Luvungi at the beginning of August. There had been an uproar about MONUSCO's lack of response to the rapes – the peacekeepers had a base about 20 miles away – so the secretary general had sent his assistant in charge of peacekeeping to investigate.
The report – which I have uploaded here – does not really say anything we didn't know. The UN Organization Stabilization Mission in the Democratic Republic of the Congo, or MONUSCO, knew that the Democratic Forces for the Liberation of Rwanda (FDLR) and Mai-Mai had taken over the area and that they had committed a few abuses, but they were unaware of the scale of the rapes (they had heard about one, unconfirmed) until days after the assailants had left town. MONUSCO is under-resourced and staffed and there was no way for the villagers to contact them, as there is no cell phone coverage in the area.
The report continues: Protection of civilians is primarily the duty of the Congolese Army, but MONUSCO did fail. The UN will now try to set up ham radios the villagers can use to contact them in case of an emergency. They will carry out night patrols and have already deployed 750 soldiers to the area to try and hunt down those responsible for the attacks. Furthermore, the UN will provide clear instructions to its peacekeepers during these kinds of situations, i.e. when a new armed group moves into an area.
---